1871
After the Great Chicago Fire, which began October 8, A.H. Burgess of London proposed an "English Book Donation," which he described in the Chicago Tribune on December 7: "I propose that England should present a Free Library to Chicago, to remain there as a mark of sympathy now, and a keepsake and a token of true brotherly kindness forever…"
The plan carried the support of Thomas Hughes, a prominent member of Parliament and the well-known author of Tom Brown's School Days, who had visited Chicago in 1870.
The donation, consisting of more than 8,000 books from Great Britain, prompted leading citizens of Chicago to petition for a public meeting to establish a free public library. Previous libraries in Chicago were private organizations that required membership fees. The public meeting led to the Illinois Library Act of 1872, which authorized cities to establish tax-supported libraries throughout the state.
1872
In April, the City Council passed an ordinance proclaiming the establishment of Chicago Public Library.
1873
On January 1, Chicago Public Library opened its doors at the southeast corner of LaSalle and Adams streets in a circular water tank that survived the fire.
On October 24, the Chicago Public Library board elected William Frederick Poole as librarian. The library moved several times during its first 24 years, including an 11-year stay on the fourth floor of City Hall.
1874
A delivery station system of outposts with small collections served Chicago's neighborhoods. Most stations were in stores and were managed by store personnel. Patrons could call for a specific book, which was delivered by horse-drawn carriage to the outpost nearest their home.
Over the next decade, deposit stations included local candy or drug stores, where owners were paid a modest sum for accepting books for delivery and retrieval. "Special" deposit stations included businesses, churches and factories, where books were available for employees or members.
By the early 1900s deposit stations accounted for two-thirds of the circulation of the Chicago Public Library.
1891
Jane Addams provided space for a reading room in the Butler Gallery of Hull House. The typical reading room could be found in Chicago's many park fieldhouses or on the upper floors of businesses.
1897
On Monday, October 11, the Central Library, on Michigan Avenue between Washington and Randolph streets, opened its doors. The building, on the grounds of Dearborn Park (named for the Fort Dearborn Military Reservation that formally encompassed the area), cost about $2 million. The building was designed by A.H. Coolidge, associate of the firm Shepley, Rutan & Coolidge of Chicago, with 25 draftsmen taking a year to complete about 1,200 drawings. Heedful of the lessons of the Great Chicago Fire, they designed the building to be practically incombustible.
The center of this building, now known as Preston Bradley Hall, contains a dome and hanging lamps designed by Tiffany Glass and Decorating Company of New York. The Washington Street entrance, grand staircase and dome area contain inscriptions of 16th century printers' marks, authors' names and quotations that praise learning and literature in mosaics of colored stone, mother of pearl and favrile glass.
The bill to erect a public library on the grounds of Dearborn Park also required the inclusion of a Soldiers' and Sailors' Memorial Hall to commemorate the soldiers and sailors from Illinois who served in the Civil War.
1904
Isabella N. Blackstone presented Chicago Public Library with funding to construct its first branch library, in memory of her late husband, Timothy Beach Blackstone. Mr. Blackstone served as president of the Chicago and Alton Railroad from 1864 until 1899, and was one of Chicago's leading philanthropists. The library was modeled after the famous Erechtheion on the Acropolis in Athens, Greece. Today, Blackstone Branch serves the Hyde Park and Kenwood neighborhoods, and remains a vital part of Chicago Public Library.
1916
Chief Librarian Henry E. Legler presented his library plan for the city, which called for an extensive network of neighborhood library locations. Its goal was to bring "library service within the walking distance of home for every person in Chicago who can read or wants to use books."
Legler believed several regional libraries with more comprehensive collections than the neighborhood library locations would provide patrons with greater library resources within a reasonable distance. The first regional library, the Henry E. Legler Regional Library, was established in 1920 in the West Garfield Park neighborhood. Legler Branch remains part of the Chicago Public Library and is listed in the National Register of Historic Places.
1918
Carl B. Roden, who began work as a library page in 1886, was appointed chief librarian, a position he held for 32 years (1918-1950). Under his leadership, the library system increased 50 percent, staff more than doubled, the book stock increased threefold, circulation doubled and total expenditures rose more than 400 percent. Roden Branch in the Norwood Park neighborhood, where Roden lived his whole life, is named in his honor.
1932
The George Cleveland Hall Branch, in the Bronzeville neighborhood, opened under the leadership of branch head Vivian Gordon Harsh and children's librarian Charlemae Hill Rollins.
Harsh, CPL's first African American branch head, inspired and motivated authors, poets and writers at the library and established the largest African American history and literature collection in the Midwest.
Rollins, an energetic author, lecturer and storyteller, served as the first African American president of the Children's Services Division of the American Library Association.
The branch was named in honor of Dr. George Cleveland Hall, chief of staff for Provident Hospital and the second African American on Chicago Public Library's Board of Directors.
1951
Under the direction of Chief Librarian Gertrude E. Gscheidle, the Chicago Public Library expanded its service to Chicago's neighborhoods by modernizing the bookmobile system. In fewer than eight months of operation, the traveling branch system circulated almost 100,000 books to neighborhoods without full library services.
1960s
Chicago Public Library added a significant number of neighborhood branch libraries, either through new construction or by leasing storefronts or reading rooms. By 1985, there were 76 such locations throughout Chicago.
1975
Carter G. Woodson Regional Library, named after the "Father of Modern Black Historiography," opened its doors in December. Woodson Regional Library, in the Washington Heights neighborhood, is home to the Vivian G. Harsh Research Collection of Afro-American History and Literature. Named in honor of the first African American woman to head a location of the Chicago Public Library, the Harsh Collection is one of the largest repositories of information on the black experience in the Midwest.
1985
Conrad Sulzer Regional Library, in the Ravenswood neighborhood, replaced Hild Regional Library and serves the North Side of Chicago. Designed by the architectural firm of Hammond, Beeby & Babka, the building is an example of neoclassical architecture. Sulzer Regional Library houses the Northside Neighborhood History Collection.
During the years of great neighborhood library expansion, it became increasingly clear that the Chicago Public Library had outgrown its Central Library on Michigan Avenue. Mayor Harold Washington and Chicago's civic leaders planned for the construction of a new central library, designating a site at 400 S. State Street, a one-and-one-half block tract in the South Loop.
1986
The Chicago Public Library Foundation was formed as an independent, nonprofit educational organization dedicated to working with the City of Chicago in a public/private partnership benefiting the Chicago Public Library. Support from the Chicago Public Library Foundation is instrumental in enhancing book collections, online information access and innovative programs for Chicagoans of all ages.
1987
On July 29, Mayor Harold Washington and the City Council authorized a design/build competition and approved a bond issue to finance the project. Under the rules of the competition, architects and builders teamed up to design the building within the set cost of $144 million. The winning entry from the SEBUS Group included developers U.S. Equities; design architects Hammond, Beeby & Babka Inc.; general contractors Schal Associates Inc.; architects of record and structural engineers A. Epstein and Sons, International; and architects and engineers Delon Hampton & Associates.
CPL's Board of Directors decided to name the new central library after the late Mayor Washington, the city's first African American mayor. A great lover of books and an advocate of Chicago Public Library, Washington died November 25, 1987.
1988
The groundbreaking for Harold Washington Library Center took place October 13.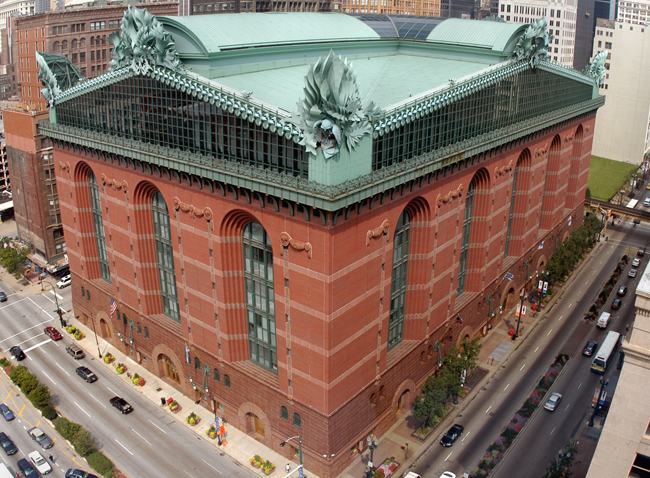 1991
The move into the new central library began July 5 and was completed August 24. Mayor Richard M. Daley, CPL's Board of Directors and Commissioner John Duff dedicated the building October 4. After an open house October 6, Harold Washington Library Center opened October 7.
1994
Mayor Richard M. Daley appointed Mary A. Dempsey as commissioner of Chicago Public Library.
1995
Under the guidance of Commissioner Dempsey, the Library's staff wrote a new mission statement and developed a five-year strategic plan to rebuild the Library system by improving its infrastructure in five critical areas: staff development and training, technology, funding, capital planning and materials acquisition. The mission statement is central to all Library operations and is its guiding principle:
"We welcome and support all people in their enjoyment of reading and pursuit of lifelong learning. Working together, we strive to provide equal access to information, ideas and knowledge through books, programs and other resources. We believe in the freedom to read, to learn, to discover."
Chicago Public Library established its website, offering patrons access to a wide range of information and bibliographies, and serving as a gateway to the Internet.
1996
Bill Gates, chairman and CEO of the Microsoft Corporation, announced a $1 million gift of software and training to the Library. This donation enabled the Library to connect all 81 locations to the Internet.
On November 13, in a show of support unmatched by any other major U.S. city, the Chicago City Council overwhelmingly approved the request of Mayor Richard M. Daley and the Chicago Public Library Board of Directors for a three-year, $65 million capital improvement plan. Under this plan, the Library and City built or renovated 52 neighborhood libraries.
1997
Library Journal honored Mayor Richard M. Daley for his support and advocacy for libraries by selecting him as its first "politician of the year."
2000
Beginning in 2000, the City invested an additional $44 million in neighborhood library construction. These capital improvement plans ensured that all areas of Chicago would be served by modern, fully equipped and inviting neighborhood and regional libraries. This improvement in infrastructure represented 65 percent of the city's neighborhood libraries.
2001
Chicago Public Library launched One Book, One Chicago to foster a sense of community through reading. The Library's free programs for adults and children include author readings, story hours, exhibits, dance and musical performances, the Chicago Book Festival, Money Smart and Law at the Library lectures.
2003
The City of Chicago received an outstanding achievement award for the One Book, One Chicago program in the 2003 City Livability Awards Program sponsored by the U.S. Conference of Mayors. The awards recognize and honor mayors for exemplary leadership in developing and implementing programs that improve the quality of life in America's cities. One Book, One Chicago, sponsored by the City of Chicago and the Chicago Public Library, encourages residents to read and discuss the same book at the same time. Launched in fall 2001, the goal of One Book, One Chicago is to cultivate a culture of reading and discussion in Chicago by bringing the city's diverse population together around a great piece of literature. The program has received international media attention, and more than 100 cities worldwide have modeled their citywide reading clubs after One Book, One Chicago.
2009
Chicago Public Library opened YOUmedia, an innovative, youth-centered learning space in partnership with the Digital Youth Network. The 5,500-square-foot space in the Harold Washington Library Center and virtual ym.iremix.org social learning network was inspired and funded by the John D. and Catherine T. MacArthur Foundation through the Chicago Public Library Foundation, along with additional funding and support from the Pearson Foundation and the City of Chicago. Based on research funded by MacArthur, YOUmedia addresses youth interaction and learning with digital media by becoming a model "out-of-school" environment created by and for teens. At YOUmedia, young adults engage in projects that promote critical thinking, creativity, skill-building and, ultimately, civic engagement with the help of adult mentors, digital resources, books, programming and workshops. The space was hailed by the White House as a model for other libraries and museums and has been replicated across the country.
2012
Mayor Rahm Emanuel appointed Brian Bannon as commissioner of Chicago Public Library.
2019
Chicago Public Library opened its 81st location, West Loop Branch, on January 17, 2019.
Mayor Lori Lightfoot appointed Andrea Telli as commissioner of Chicago Public Library effective June 15, 2019.