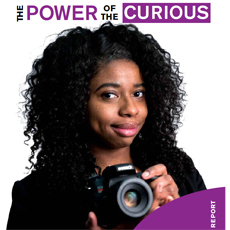 As our 2015 Annual Report demonstrates, Chicago Public Library and Chicago Public Library Foundation seek to nurture, inspire and challenge curiosity, to surround it with a dynamic environment that gives it room to grow. We believe that's how you build generations of engaged Chicagoans.
Today, Chicago Public Library is the proud home of the curious, reaching residents throughout the city with award-winning services, rich materials and state-of-the-art technology. The Library's role is so pivotal to the city's knowledge economy that it needs a strong partner to keep its mission front and center in the hearts and minds of Chicago. That partner is the Chicago Public Library Foundation. Dedicated to the curious, the Foundation advances the high-impact programs and raises the critical support needed to keep the Library fresh, relevant and responsive.
Here's what we mean:
These are just a few of the 2015 highlights we are proud to share with you. Our powerful partnership is increasing literacy, bridging the digital divide and delivering a sense of excitement and wonder to our city. Each year, we set our bar higher, aiming to exceed the expectations of the supporters who make all of this possible.
Archives