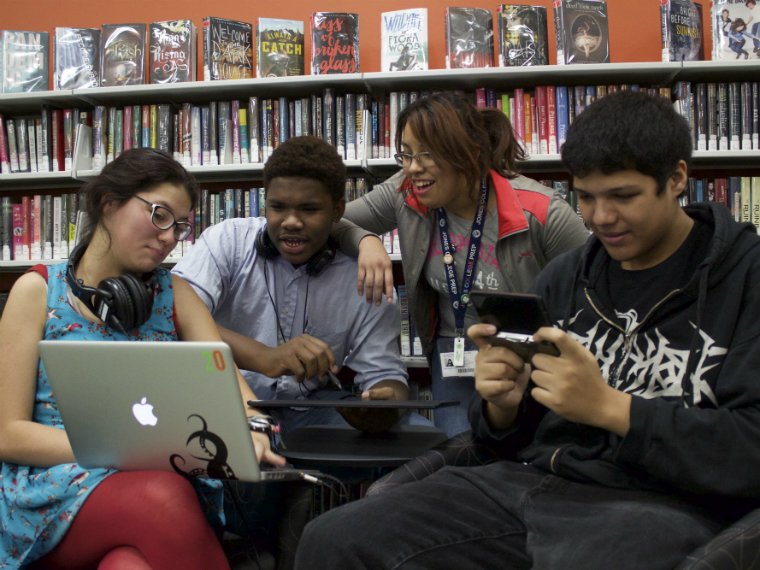 Teens, come explore, create, collaborate, check out books, develop new skills and lead with us!
What We Do
YOUmedia is a library and studio space at Chicago Public Library designed specifically for teens. You can hang out, mess around and geek out on projects to create your own music, video, 2D and 3D design, photos and podcasts with help from skilled mentors.
YOUmedia equipment is available for free with your valid Chicago Public Library card. First-timers need to sign up. Returning students just need to sign in.
Follow us on Facebook, Instagram, Twitter and YouTube.
Locations
High School
Grades 6 - 8
Learn more about YOUmedia's history, philosophy, partnerships and tours.
Special Projects
ChiTeen Lit Fest
ChiTeen Lit Fest is a safe and creative space for you to unlock and discover your unique voice through the literary arts as we bring together young people from Chicago to celebrate their talents and express themselves through exceptional and honest art. Keep an eye out for opportunities to plan the fest, participate in advanced workshops and attend special guest performances and events before the next fest in April 2017.
(PRO)jectUs
(PRO)jectUs is an initiative for young adults between 13 and 23 designed to build skills in fashion design, music production and new media journalism, including an actionable portfolio and industry-centered special opportunities.
Partnerships
Interested in partnering with YOUmedia? Please visit bit.ly/CPLTSPartnershipRequest, our next call for partner proposals will be August 1 - September 30, 2018.