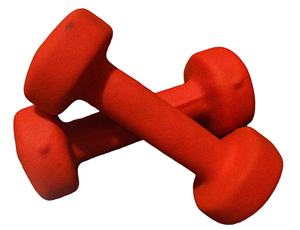 You're determined to keep your 2014 resolution to make it to the gym five times a week. But your car is still stuck under a pile of frozen snow from two weeks ago. So get some cardio: Walk to your local library and pick up a workout DVD.
The best DVD I've found is Jillian Michaels' Ripped in 30. She scares me a little, but she gets results. Her interval training works all areas of the body and incorporates both cardio and weight training. Plus the 30-minute workouts are not a huge time commitment.

If time is an issue, the 10 Minute Solution series is for you. The Pilates workouts will strengthen your core and lengthen your muscles. If you're like me, you also have financial resolutions to keep, so checking out these DVDs will cut out the hefty gym membership fee. Would you really keep going past January anyway?

And if the weather is keeping you from your favorite yoga studio, try Bethenny's Skinnygirl Workout. Bethenny is a refreshing instructor because of her no b.s. attitude and sarcasm. Yoga DVDs can be off-putting if they try to get too hippie-dippy spiritual. Bethenny is the exact opposite of hippie.

Or, if you get tired of listening to any of these instructors, you can turn off the sound. That's the beauty of exercising in your own home. I use it as my opportunity to meet my fitness goals for the new year AND binge watch a TV series on my tablet at the same time!