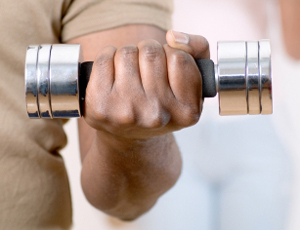 Working out is one of life's horrible contracts. If you want to be healthy...you have to exercise. Fine, but I won't like it. I wanted to get a jump on the whole exercising thing, but I didn't want to spend the cash to join a gym or hire a personal trainer. So my other option is to work out at home on my own schedule. Luckily I found some DVDs that I actually kind of liked.
The 15 Minute Workout series is really cool. Each book comes with a DVD that shows four 15-minute workout routines. My favorites so far are the 15 Minute Calorie Burn Workout and 15 Minute Stretching Workout, but other versions include dance, abs and Pilates workouts. Do I actually work up a sweat in 15 minutes? Yes, yes I do. This series probably isn't for the hard-core gym rats or health enthusiasts, but it works for newbies like me who just want to be able to breathe after it's over. The book provides page-by-page instructions for each workout and interesting tips like how to stay motivated and increase your workouts.


I like Leslie Sansone's line of fitness walking DVDs because I get a great workout from walking (the easiest exercise in the world), and I don't have to be on the treadmill all day. Her workout DVDs come with her motivating attitude, workout friends who look like real people and some decent music, in my opinion. My favorites are Start Walking at Home and Just Walk Ultimate Five Day Walk Plan.