Chicago Cultural Center Opening Day Digital Collection
CPL's Digital Collections document life in Chicago through archival images, documents and artifacts.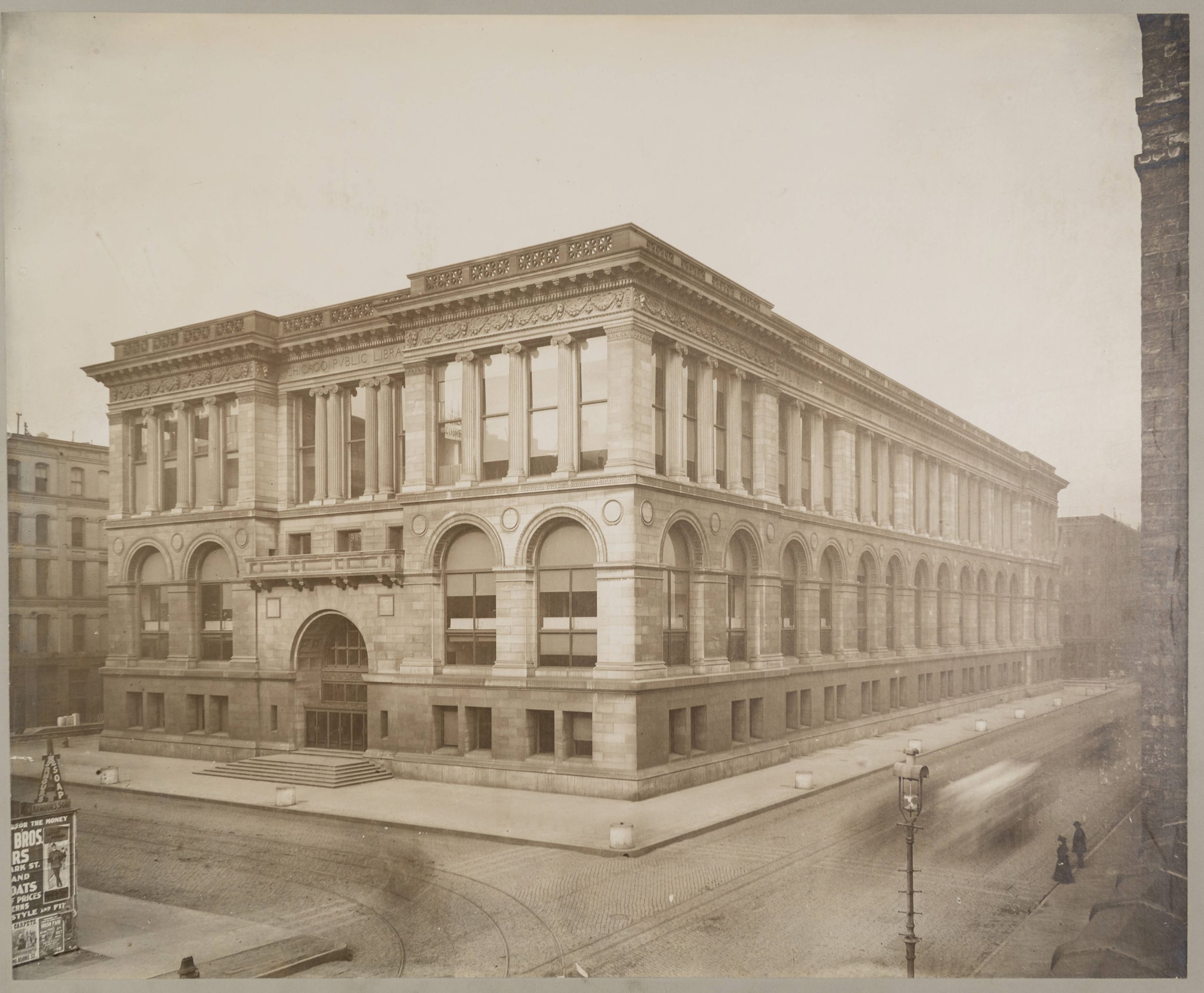 About
Before it was renovated, reopened and renamed as the Chicago Cultural Center in 1977, the majestic building situated on Michigan Avenue, between Washington and Randolph Streets, functioned as the Main Library for Chicago Public Library.
Founded in April of 1872 after the Great Chicago Fire the previous year, Chicago Public Library moved from one downtown location to another, trying to find the perfect space to accommodate the busy and growing library. Due to the destruction of the Fire, building options were limited for several years, and none were optimal. Dearborn Park was a vacant lot of land where the Chicago Cultural Center now stands, but both the Library's Board of Directors and the Grand Army of the Republic (GAR), a veteran's organization for soldiers who had fought for the Union during the recent Civil War, wanted the site for their buildings. A compromise was reached whereby the Library was allowed to build the Main Library, but space was allocated within it for the exclusive use of the GAR to build a Memorial Hall and host their meetings for the next 50 years.
The Main Library was designed by Boston firm Shepley, Rutan & Coolidge, and it opened in October of 1897. The firm designed a building that not only served the purposes of a large public library--it incorporated an august war memorial and meeting rooms, too. The overall building cost slightly less than $2 million, and the interior is lavishly decorated with both Carrara and Vermont marble, intricate glass mosaics and two stained glass domes. The building remained the Main Library for Chicagoans for most of the twentieth century until the equally stunning Harold Washington Library Center opened in 1991 and all library functions were moved there.
Please enjoy these photographs of this impressive building taken in 1897 by local photographers Reginald Capes and George R. Lawrence, just as construction was completed.
Questions or concerns about rights and access to this digital collection? See our Copyright and Takedown Policy.
Acknowledgment of Harmful Materials
Chicago Public Library collects images, documents and other archival materials from different communities and time periods to preserve and make available the cultural and historical record. As historical objects, some of these materials contain harmful or disturbing content. CPL presents these artifacts as an unfiltered social record and does not endorse the views expressed therein.
Related CPL Collections
Chicago Public Library History Blog Posts