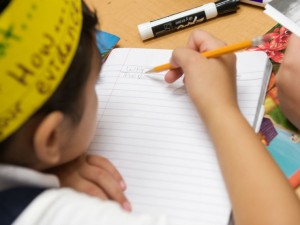 It's Get Ready for Kindergarten Month! Are you ready for the first day of kindergarten?
In my house we are getting ready for a full day of kindergarten. I expected a smooth transition for my son since he's going to kindergarten at the same school he attended preschool for two years. But that is definitely not the case.
Besides working on the kindergarten readiness checklist, we will also be busy finding ways to deal with the stress (his and mine) of going to school for a full day. I found a great tip sheet to help him deal with the stress (also available in Spanish and Chinese).
We'll definitely read back-to-school books to show him that kindergarten is not so scary.  I turned to CPL's Look Out Kindergarten Here I Come list to find some titles.
Wemberly Worried is a must for the first day of school. My child can relate to Wemberly, who worries about everything all day.  The more she is told not to, the more she worries. We enjoyed reading that she found a friend at school, and worried a little less.

Timothy Goes to School is another great read for an anxious child. Timothy was excited to start school. After his classmate Claude disapproves of Timothy's clothing, he doesn't want to go back. Timothy finds a friend who has things in common with him and suddenly school isn't so bad after all.

Count down with Lucy in Kindergarten Countdown, as you practice your numbers and days of the week. I like the items you can count together, the ABCs and the different ways she practices her name throughout the book. Hopefully her excitement is contagious!

It's the first day of school and Henry is ready, or is he? In Look Out, Kindergarten, Here I Come!, Henry is excited all the way to school, until he has to enter class. This book offers a chance to discuss what to expect in kindergarten.

I'm also looking forward to attending a Back to School-A-Palooza concert to get my son excited for the first day!