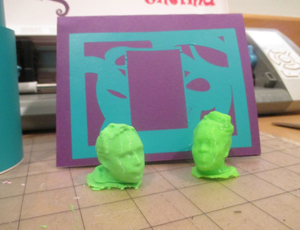 The Edgebrook Branch Mini Maker Lab will be open for six weeks, from August 25 to October 4, in the first floor community room.
Stop by the Mini Maker Lab to:
Create your own designs and fabricate them with the push of a button
Learn about the Chicago maker community and how you can get involved
Try out free software that you also can download at home
Learn about the educational and career opportunities available in computer-aided design
Hours
Monday and Wednesday: 1:30 p.m. to 7:30 p.m.
Tuesday and Thursday: 11:30 a.m. to 4:30 p.m.
Saturday: 10 a.m. to 4 p.m.
Friday: closed
Equipment
Two Up! Mini 3D Printers
Two Silhouette Cameo Vinyl Cutters
One Kinect Camera to scan 3D printed busts
Additional crafting supplies
Events
The Mini Maker Lab will feature making workshops like:
Get Scanned and Print a 3D Bust
Create a Vinyl Sticker
Create a Patterned Greeting Card
Create 3D Earrings
Create a 3D Key Chain
Create a Vinyl Heat Transfer
Use a Hacked Electronic Knitting Machine
Using the Mini Maker Lab
Although workshops are intended for ages 14 and up, we can accommodate a school-age child sharing a work station with a parent or guardian. For more information, or to register for classes, call (312) 744-8313.
Mark Your Calendar
Our third Mini Maker Lab takes place at the Little Village Branch from October 13 to November 22.