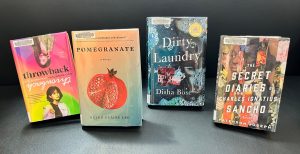 What are your feelings when reading a new book? Is it excitement? Amusement? Perhaps joy? From the clean, sleek covers to freshly unturned pages, a new book can introduce you to new worlds, complex storylines and different characters.
In celebration of Asian American and Pacific Islander Month, we're going to take a look at new titles with Asian-American protagonists.
In Gloria Chao's acclaimed novel When You Wish Upon A Lantern, the author tells the story of two childhood friends who devote themselves to their parent's expectations whilst too afraid to act on their love for each other. Funny, lighthearted and creative, this title is indeed a page-turner. 

Maurene Goo's fifth novel Throwback is a blend of Joy Luck Club meets Back to the Future. Samantha King is not only juggling school, friendships and boys, but also the expectations of her overbearing mother Priscilla. Naturally, Samantha wants to get away from her, but finds herself teleported back to the 90s alongside her own mother! Fun and engaging, this book explores what one gains and loses in the immigrant experience.

Fitting in is hard. But fitting into a prestigious prep school as a multicultural teen? That's harder! In Patricia Park's debut novel Imposter Syndrome and Other Confessions of Alejandra Kim, we follow the title character on a journey of self-discovery and standing up for what you believe in.

They say that a picture is worth a thousand words, and no one knows that better than Samantha Sakamoto. In Ann Liang's novel Beneath the Wide Silk Sky, Samantha is faced with prejudice, racism and violence after the Pearl Harbor attacks. To combat this, she delves into photography to document the problems around her. 

Do you have a favorite book with an Asian-American protagonist? Let us know in the comments below.