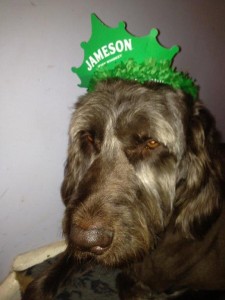 I am an animal lover - I love them all - but I have a special place in my heart for dogs. Big, small, tiny, huge, I find something endearing about all breeds. I have an 8-year-old labradoodle (embarrassing name for a large, proud dog), and he is the light of my life. Much to my children's chagrin I refer to him as my baby boy - a 95 pound baby boy. You might say he has some "issues" but I prefer to think of him as "unique". He has actually hurled himself through our front window in pursuit of the mailman, thankfully he was not injured, nor was the mailman. He has eaten a dozen Easter eggs, shells and all, suffering no serious residual effects. And his favorite appetizers are dirty Kleenexes - EWWW! How can I love such a beast? His deep brown eyes and perpetually wagging tail win me over every time. The fact that he cannot talk (sass me back) is also a big plus. Many people have told me that he reminds them of Marley, the rambunctious hound in the book and movie of the same name. I can definitely see their point. I loved the book but at the end (SPOILER ALERT), when Marley dies, (NOOOOO!), it absolutely breaks my heart. Many books are about dogs that die and they bring me to tears every time. So for all you dog lovers out there, listed below are some heartwarming books about dogs where everyone lives happily ever after.
Hollywood Dogs by Ann Lloyd is a compilation of photos of famous dogs from memorable movies. The photos are supplemented with quotations and trivia sure to entertain everyone - not just dog lovers.

Sophie by Emma Pearce is the incredible, true story of a lost dog's journey back to her family. It's a story of love, survival and triumph.

Oogy by Larry Levin is the heartwarming tale of an abandoned dog and the special family that adopts her. Though Oogy (short for Ugly) might not be the prettiest dog on the block, he brings many other gifts to his new household.

Woof! by Lee Montgomery is a collection of stories about the bond between dogs and humans. Runs the gamut from funny to poignant to philosophical and everything in-between.