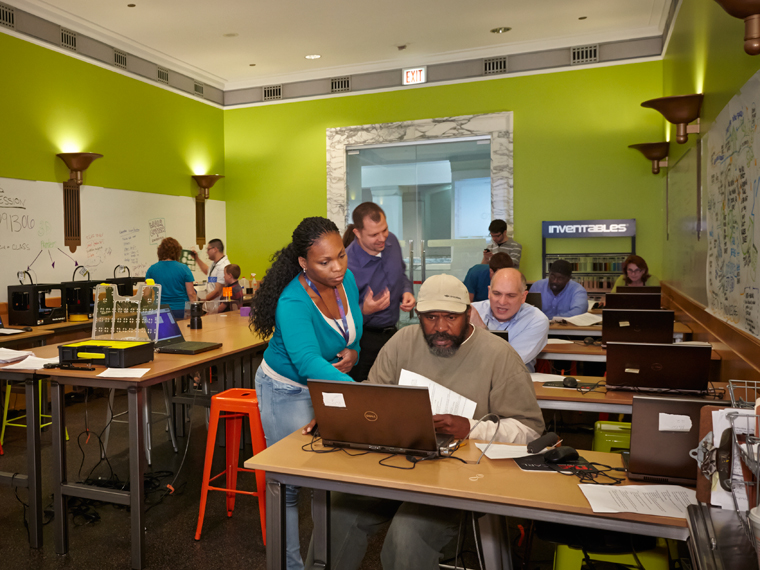 The Maker Lab, on the 3rd floor of the Harold Washington Library Center, offers free workshops, open lab hours and drop-in demonstrations.
Contact Us
Hours
Monday: 1 p.m. to 8 p.m.
Tuesday: 1 p.m. to 8 p.m.
Wednesday: 1 p.m. to 8 p.m.
Thursday: 1 p.m. to 8 p.m.
Friday 10 a.m. to 4 p.m.
Saturday: 10 a.m. to 4 p.m.
Equipment
Digital design software
3D printers
Laser cutters
Milling machines
Vinyl cutter
Using the Maker Lab
Participants must be 14 or older.
Open Shop
No registration is required for open shop.
Workshops
Workshops are free; supplies are provided unless otherwise stated.
Register to reserve a seat. If you are unable to attend, call (312) 747-4400 to cancel your registration.
Walk-ins are welcome if seats are available.
3D-printing classes accommodate eight participants.
Vinyl-cutting classes, laser-cutting classes and other workshops accommodate 12 participants.
Lectures and information sessions generally do not require registration.
Groups
If you have a group of five or more and wish to attend a workshop, email makerspace@chipublib.org or call (312) 747-4400.