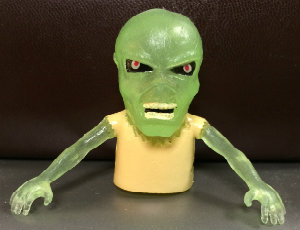 I've never considered myself a "zombie" girl. I've always been much more fascinated by vampires—they only come out at night, they aren't necessarily going to kill you and they are just slightly sexier then zombies. I don't really enjoy horror movies, so I've only seen a handful of zombie films, mostly spoofs, and although I've read several zombie books, I just couldn't get into them.
Then I met Rick, Shane, Merle, Glen, Andrea, Lori and Carl. I just happened upon The Walking Dead when it popped up as a suggestion in my Netflix account. I'd heard some of my friends talk about the show and decided to give it a try." After just two episodes, I was hooked. It became this guilty pleasure I would watch in the dark after everyone else was asleep. I didn't even mind the gore of the zombies because in reality this is a show about people and how we relate to each other in the worst possible situations.

Once I was hooked on the show, I had to read The Walking Dead graphic novels the show is based on. And again, I'm not a graphic novel reader, but the books were so much like the show—and even added to it—so I became completely addicted. And now I'm out to recruit more addicts because, really, who wants to hide this kind of addiction?

So, I'm here today to say: Hello, my name is Shilo and I'm a Walking Dead addict.
To get in the mood for the return of The Walking Dead this Sunday night, try these horrible (in a good way) zombie films or read one of these fantastic books with teen appeal featuring the undead.