---
Monday 
10:00AM - 6:00PM
Tuesday 
12:00PM - 8:00PM
Wednesday 
10:00AM - 6:00PM
Thursday 
12:00PM - 8:00PM
Friday 
9:00AM - 5:00PM
Saturday 
9:00AM - 5:00PM
Sunday 
1:00PM - 5:00PM
415 E. 79th Street
Chicago, IL 60619
Holidays and Closures
Memorial Day

Monday, May 30, 2022

Closed All Day

Juneteenth

Sunday, June 19, 2022

Closed All Day

Independence Day

Monday, July 4, 2022

Closed All Day

Labor Day

Monday, September 5, 2022

Closed All Day

Thanksgiving Day

Thursday, November 24, 2022

Closed All Day

Christmas Day

Sunday, December 25, 2022

Closed All Day

Christmas Day (observed)

Monday, December 26, 2022

Closed All Day

New Year's Day

Sunday, January 1, 2023

Closed All Day

New Year's Day (observed)

Monday, January 2, 2023

Closed All Day
About Whitney M. Young, Jr.
After-hours book return
Bike rack
Parking lot
WiFi

A parking lot is available on the east side of the building. Access the parking lot from 79th Street or Vernon Avenue. The lot has 12 general parking spaces, three accessible parking spaces, two fuel efficient spaces and two carpool parking slots.

Additional parking is available behind building and can be accessed from Vernon Avenue or Martin Luther King Drive.

Three accessible parking spaces are available in the parking lot on the east side of the building.
The building is ADA compliant throughout.
Wheelchair accessible entrance and restrooms.
Two ADA computer workstations: one for adults and one for children. These workstations feature:

             24-inch monitor

             Oversize keyboard

             Trackball mouse

             Wheelchair-accessible computer table

All CPL computers have the Windows 7 screen Magnifier and Narrator.
Looking for help with school work? Join other kids and families for out-of-school learning support. Get help from a certified teacher to complete homework and improve study skills. Drop in for homework help and try Teacher in the Library in person.
Schedule is subject to change. Please call to confirm availability.
Monday
Tuesday
Wednesday
Thursday
Friday
Saturday
Sunday
4:00PM - 6:00PM
4:00PM - 7:00PM
4:00PM - 6:00PM
4:00PM - 7:00PM
NA
NA
NA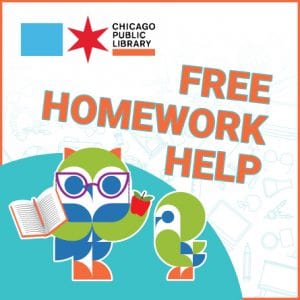 New at Whitney M. Young, Jr.