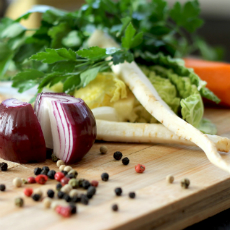 We explore the theme "Eat, Think, Grow" this One Book, One Chicago season, with this year's book, Animal, Vegetable, Miracle. But if you're looking for a taste of something a little different, travel the world without leaving your kitchen with these cookbooks of flavors from all over the globe.

The Enchilada Queen is a must-read for any fan of Mexican food. While focused on perfecting the enchilada, the book also provides recipes for sides, desserts and appetizers from the Texas-Mexican border kitchen tradition.

Clodagh's Irish Kitchen takes you through the best of modern Irish cooking, with soups and stews to warm your body and spirit, as well as more complex dishes.

The Middle Eastern Vegetarian Cookbook is packed with recipes for delicious dishes that are also suitable for vegetarian, vegan and gluten-free eaters, and easy to make too!

If you've ever thought that you needed illustrations to take you through a recipe step by step, you're in luck with the graphic novel Cook Korean! You'll learn how to make traditional and modern Korean dishes in no time.

Polska celebrates the tradition of Polish cuisine, as well as its modern evolution through the years, through delicious recipes and beautiful photos.

Award-winning chef Rob Chirico shares the tale of growing up with an Italian-American mother who was not a good cook, and what he learned about life and food in Not My Mother's Kitchen.

Western and Eastern African dishes are celebrated in Food From Across Africa, showcasing both classical and modern African dishes and diverse, delicious flavors.

Do you have a favorite cookbook of regional cuisine? Share your favorite in the comments!