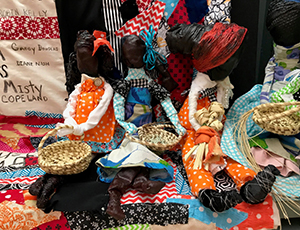 Terri Mae Owens: Been Yah Gullah Dolls & Sweetgrass Baskets is on display February 2 through March 31 at Harold Washington Library Center in the 8th floor exhibit cases.
Terri Mae Owens creates handmade dolls that she calls "Been Yah Dolls." Each doll holds a hand-sewn sweetgrass basket.
Sewing sweetgrass baskets is an art form that has a rich history along the sea-islands and coastal areas of South Carolina and Georgia. Gullah-speaking people, descendants of the slaves who first crafted sweetgrass baskets, continue the tradition of sewing baskets within their Southern communities.
A native of Charleston, S.C., Owens is a graduate student in the Department of Fiber and Material Studies at the School of the Art Institute of Chicago, where she creates sculptures to honor the memory of women and girls who were lynched in America.  
The artist will give a Gullah Doll Workshop from 1 p.m. to 4 p.m. Saturday, February 17 at Harold Washington Library Center.