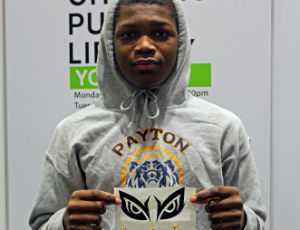 Each month we spotlight a teen at CPL.
Cortez had to create a mobile for his world studies class. Their project was to create symbols for a particular myth that they were assigned. His myth was Orpheus and Eurydice. He came in to Chinatown's YOUmedia to see what types of materials we had available and decided to use the vinyl cutter.  He enjoyed picking out the silhouette and seeing it come to reality on the paper.  He also said that he would definitely use vinyl cutter for another project.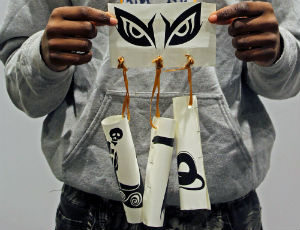 Cortez was surprised the library had resources for this and was going to just cut out paper and make origami. If he could change anything about his project, he would have made the symbols bigger. His favorite thing about YOUmedia is that there is someone there to help students achieve what they want to achieve. He also likes that teens can choose if they want to just hang out or get work done if they need to.
Cortez wants teens everywhere to know that they too can think up creations and make them a reality at YOUmedia no matter what school you go to or where you live in the city.