Each month we spotlight a teen at CPL.
It looked as though Antonio B had recently visited the museums of Illinois' Cantigny Park (http://www.cantigny.org/museums), where teens can envision the experiences of U.S. Army figures.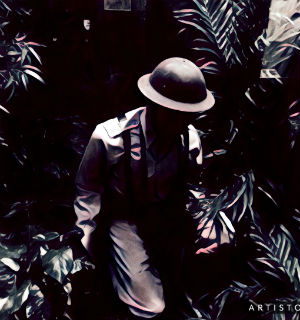 Using unique shading and experimentation with light, Antonio used an Artisto app to create some interesting 3-D like images he used to portray war, as well as inner battles and demons within one's self.
The 2016-17 Teen Winter Challenge Jury:
Ade Abioye of Chicago Public Library's Teen Services Department
Christine Bespalec-Davis, Education and Programming Manager at the National Veteran's Art Museum
Hillary Cook, Assistant Director of Youth Programming at the Art Institute of Chicago
Joel Javier, Education Manager at Intuit: The Center for Intuitive and Outsider Art
Joshua Slater, Teen Programming Manager at Hyde Park Art Center
Matt Egan of Chicago Public Library's Literature and Language Department
Robin Willard of Chicago Public Library's Teen Services Department
Sasha Neri of Chicago Public Library's Maker Lab and General and Information Services Department