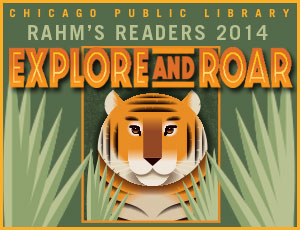 Explore and Roar at your neighborhood library from June 9 through August 2 as we investigate animals and learn how each of us can help protect wildlife in our own backyard and around the world.
This free, drop-in program is for kids 13 and under. During the Summer Learning Challenge, CPL locations will offer new books about animals, hundreds of family programs, art projects, STEAM (Science, Technology, Engineering, Art and Math) activities and many more ways for kids to keep their brains active.
Start today by registering at any CPL location or online with our new summer site. For children under 5, pick up a special early literacy piece at any CPL location. Families can complete this by keeping track of the way they talk, sing, read, write and play together. These are skills recommended through Every Child Ready to Read® @ your library®, a program of the Association for Library Service to Children and Public Library Association, divisions of the American Library Association. Children from 6 to 13, start by printing your very own Summer Learning Challenge Log. Then complete the challenge by:
READ: 20 minutes a day, every day. Read 300 minutes to reach the goal. Books, magazines, eBooks, audiobooks — all reading counts!
DISCOVER: Complete a Brain Builder activity or other STEAM project; visit Brookfield Zoo, Lincoln Park Zoo, the Museum of Science and Industry or another museum; attend a library program; or explore an interactive learning website.
CREATE: Create a piece of art; complete a Challenge Card with our Curiosity Kits; write a story or poem; design or build something.
ACHIEVE: Complete one Discover activity, one Create activity and Read for 300 minutes to earn a book bag you can color yourself! Then keep reading and learning to be entered into a raffle for an eReader.
School-age children are encouraged to join our Name the Tiger contest to win a bag of books and passes to Brookfield Zoo. All children are also eligible to win free books and passes to the Brookfield Zoo through weekly raffles. Parents and caregivers, can enter a tech package raffle by reflecting on the learning you are doing with your children.
Have a GRRRREAT summer with Explore and Roar !
Rahm's Readers is in partnership with Chicago Park District, Chicago Public Schools, The Anti-Cruelty Society of Chicago, Brookfield Zoo/Chicago Zoological Society, Lincoln Park Zoo, the Museum of Science and Industry and Chicago City of Learning.
Rahm's Readers is made possible by The James & Madeleine McMullan Foundation, Cubs Care, Comcast, Dr. Scholl Foundation, CPL Foundation Junior Board, Helen M. Harrison Foundation, Macys, Peoples Gas, Robert R. McCormick Foundation, ComEd, R.R. Donnelley, The Elizabeth Morse Charitable Trust, Daniel F. and Ada L. Rice Foundation, Verizon and RPM Advertising through the Chicago Public Library Foundation.