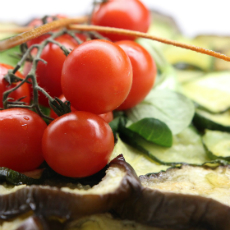 We explore the theme "Eat, Think, Grow" this One Book, One Chicago season, with this year's book, Animal, Vegetable, Miracle.  After reading the book, you may be inspired to try some new recipes at home.  To get ideas for great recipes, explore our collection of food and cooking magazines on Zinio. You can download the latest issues to your smartphone or tablet, or read them online, with no waiting. Here are five of our favorites.

Saveur focuses on the tastes and flavors of the world. You'll find information about the history of various cuisines, stories of local flavors, and culinary trends. Not only will you want to try new foods after reading this magazine, you may want to book tickets to travel the globe as well!
Every Day with Rachel Ray reflects the fun yet practical personality of television chef Rachel Ray. Her famous 30 minute meals, party ideas, and gadget reviews are all featured in every issue.
Food Network Magazine is a handbook to the stars of the television network. The network's celebrity chefs contribute recipes and behind the scenes stories, inspiring you to be a star in your own kitchen.
Vegetarian Times is a jam-packed resource for those who follow a vegetarian diet, as well as those who just want to eat more meatless meals. Tasty recipes with a perspective of care for self and the environment are the centerpiece of this publication.
Weight Watchers Magazine aims to make it easy to follow the popular diet program. You will find smart advice from experts, tips for sticking to the program, and healthy recipes.
Visit Zinio to check out these and other magazines.
Do you have a favorite cooking magazine? Share it in the comments!