Chicago Zine Fest takes place this weekend, from March 14-15, with readings from zines at Hairpin Arts Center and exhibitions at Columbia College. What's a zine, you may ask?
This book explains exactly what a zine is in the style and format of a small, self-published work, or zine. It provides a great history of the zine, from its genesis in the heyday of the 1970s science fiction fanzine, to the riot grrrl zine movement of the nineties, to the present day. It also gives many examples of how to generate zine content, such as photo-collaging, using found objects, or keeping a diary of writing or illustrations. It includes  well-known artists from the still-thriving zine community like Esther Pearl Watson and John Porcellino talking about the importance of the zine.
Former Illinois resident John Porcellino has created one of history's most beloved and long-running zines with his personal and meditative King Cat. A mostly autobiographical, often poetic collection of comics and writings, Porcellino draws the reader in with his openness and simple line art. His pet themes of nature living in harmony with humanity echo into his quiet but powerful explorations of everyday life.
Cindy Crabb encompasses the written perzine in Doris with her thoughts on politics, mental health, punk community, and life overall. Typewritten or hand-written, shakily illustrated, Xeroxed, and extremely personal, it is one of the ultimate feminist zines. Her work is worth a look for anyone hoping to create and connect with this very tight-knit little world.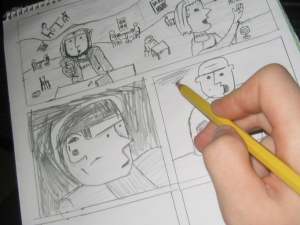 Image of sketch from Wikimedia Commons, coutesy of user Emuzesto.