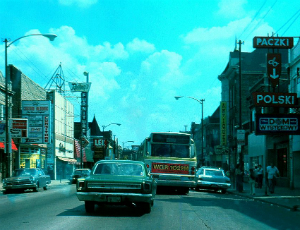 Most Chicagoans have heard the trope that Chicago has the largest concentration of Polish people outside of Warsaw. (Although here's an article from WBEZ that states this might not be true any more.) But how did Chicago's Polonia come to be? This Polish American Heritage Month, learn the history of how Polish people came to Chicago and how they thrived so far from home.
Some of the first Polish immigrants came to Chicago in the 1850s. They settled all over Chicago, including neighborhoods near the stockyards and steel mills on the South Side. These working-class neighborhoods were an attempt to keep Polish traditions and customs alive through shared communities and institutions like churches, schools and bars. Polish Immigrants and Industrial Chicago: Workers on the South Side, 1880-1922 describes how these newcomers to Chicago banded together with non-Polish workers to gain workers' rights.

The latest wave of Polish immigration happened in the 1980s and 1990s, as people tried to escape the Solidarity movement in communist Poland. These new immigrants had to learn to interact with other Polish people who had lived in Chicago for generations. Opposite Poles: Immigrants and Ethnics in Polish Chicago, 1976-1990 explores these two different viewpoints and highlights the social differences both new and established Polish residents faced in learning to work together.

If you're interested in a documentary about Polish Americans, check out Polonia: The Story of Polish Chicago. (Did you know that the term Polonia has roots in medieval Latin?) This DVD explores the historical context of why Polish people came to Chicago, as well as stories about prominent citizens today.

I think one of the best ways to learn about a culture is through its food. Polish Chicago: Our History, Our Recipes combines the history of Polonia, documented in rare historical pictures, with recipes from both Polish restaurants and Polish family kitchens. This is a great way to learn about a part of both Chicago and Polish history.