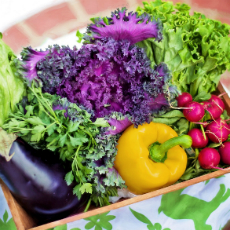 It's the time of year where we make resolutions to try new things in the coming 365 days. As we explore the theme "Eat, Think, Grow" this One Book, One Chicago season, we're thinking about food-related resolutions. This year's book, Animal, Vegetable, Miracle, tells the story of Barbara Kingsolver and her family as they resolve to eat in a whole new way, with a locally-grown focus and food they mostly grow themselves.  If you're interested in trying the same thing, here are some resources to help you out.

Your first step in garden success is planning what you want to grow and when. One of our favorite resources from people who really understand what it's really like to be a gardener in the city of Chicago is Fearless Food Gardening in Chicagoland. Published by the Peterson Garden Project, a local non-profit organization, this guide gives practical advice and step by step instructions for gardening in Chicago.

Every plant begins as a seed. While Chicago winters and springs can be very cold, you can still work on your garden by starting seeds indoors ahead of time. Starting Seeds will give you simple, easy to follow instructions and tips on starting healthy seeds inside your home.

Once you have your seeds going, it's time to get to gardening! The Timber Press Guide to Vegetable Gardening in the Midwest provides a comprehensive look at gardening in our region, with tips on how to move your seed plants outside, composting, using rain barrels, when to harvest, and more.

Your vegetables will start to appear in the summer in Chicago, but a delicious meal is only partially about the ingredients. The cook's skill is important too! Prep School will teach you skills and techniques that will have you cooking like a pro in no time.

Once you've harvested your veggies, you'll need to decide what to cook! Legendary cook Alice Waters' book The Art of Simple Food II has over 200 new recipes based on food from the garden.

Finally, as you sit down to a delicious meal of food you've grown in your garden, you may be thinking about what you've learned during your adventure in urban gardening, and what the future may hold. If you want to take things a step further and get involved with the food justice movement, you'll want to read The Food Activist Handbook.

What do you plan to grow this year?