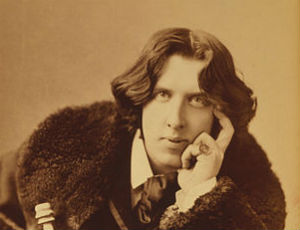 For those of you who like historical mysteries with wit, may I suggest the Oscar Wilde Mysteries by Gyles Brandreth? Six volumes in all, these quick reads are not only meticulously researched, but filled with Wilde's bon mots, thrown off as casually as only the great man could. Most are narrated by Robert Sherard, Wilde's real-life, contemporary biographer, but at least one is narrated by Arthur Conan Doyle, and the last by The Oscar himself.  In this series, Doyle seems to have learned how to observe people by studying Wilde, and often plays Watson to his Holmes. Other actual historical personages make appearances, including Bram Stoker and the Prince of Wales, Bertie.
Oscar Wilde and A Death of No Importance: Wilde comes across a murder of a young artist's model with no evidence but a blood spatter high on a wall and the body itself.  He gathers his cadre of investigators, including Arthur Conan Doyle and Robert Sherard, to solve the case. Wilde offers his secret help on what was a historical case that inspired his novel The Picture of Dorian Grey.

Oscar Wilde and A Game Called Murder: Wilde and his friends play a game in which they write down on a slip of paper the name of a person they would kill, if they could get away with it. The players then have to guess the "murderer" and the motive. All is fun and games until the "victims" start actually dying violent deaths.

Oscar Wilde and the Dead Man's Smile: Wilde, a man of the theater, is thrilled to make the acquaintance of Edmond La Grange, the patriarch of a French acting dynasty.  However, first the family poodle dies, and then La Grange's dresser, and Wilde (along with Doyle and Sherard) is on the case in this locked-room mystery.  This title incorporates Oscar Wilde's phenomenally successful tours of Europe and America into the narrative.

Oscar Wilde and the Vampire Murders: Oscar is introduced to the intriguing Rex La Salle at a glamorous party hosted by the Duke and Duchess of Albemarle. Before Wilde can pursue this connection further, the Duchess is found murdered with two pinprick holes in her neck. More vexing still is that La Salle claims to be a vampire.  The Prince of Wales knows Wilde to be discreet, and so puts him in charge of the investigation.

Oscar Wilde and the Vatican Murders: Arthur Conan Doyle is trying to go on vacation, but Wilde and a shocking collection of letters send him off to the Vatican.  Pope Pius IX has just died; was it murder? There is another death to be explained, that of an angelic 12-year-old girl some years before. Wilde and Doyle end up deep in the politics and bureaucracy of the Catholic Church to untangle this one.

Oscar Wilde and the Murders at Reading Gaol: Fallen low after very public trials, Wilde is imprisoned at Reading Gaol. Two prison workers have died under mysterious circumstances; would Prisoner C.3.3. investigate? Less a mystery than a narrative of Victorian prison life, this final work focuses on Wilde's redemption.