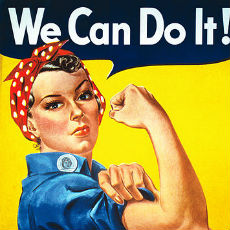 Rita O'Grady (Sally Hawkins) is nothing out of the ordinary, working at the Ford factory and raising her children with her husband in their blue-collar suburb of London in 1968.  O'Grady works in the all-female section of the plant sewing seat covers, along with 146 other women. What starts out as a dispute over job designation grows into a strike for equal pay.  O'Grady ends up leading the women, with support from Albert Passingham (the late, lamented Bob Hoskins), part of the union negotiating team. Skullduggery is in the works, however, with the big boys at Ford trying to intimidate both union leaders and the Secretary of State for Employment (Miranda Richardson).
The acting in this movie is across-the-board excellent. Of course, with heavy hitters like Hawkins, Hoskins and Richardson, everyone brings their A-game. Even the minor characters are given full realization. Hawkins' reaction to her spouse's demand for brownie points for being a good husband especially shines. The script is a little Hollywood for my taste, but it is pretty good and gives Richardson all the best lines. I like it as well for its subject matter: women getting what they're owed through solidarity. Based on a true story, Made in Dagenham tells the story of the origins of the first equal pay law, which led to similar legislation in almost all first-world countries except the United States.

Ready for more women's empowerment?
North Country: Charlize Theron and Frances MacDormand were both nominated for Oscars for their performances as mine workers in this film about the first major successful sexual harassment lawsuit in the United States. Josey Aimes is recently separated and on the financial ropes. Told that she can earn more money in the male-dominated mines than as a beautician, she starts work there with a group of other women. After a string of ever-more-disgusting acts, Josey goes alone to a lawyer to sue. She is told it is a long shot. While being ripped apart in the courtroom for her sexual history, Josey manages to find others willing to join her suit and make it a class action, and they win.

Silkwood: Meryl Streep stars in this acclaimed film about a worker in a nuclear processing plant who tries to expose serious safety violations by her employer. Because Karen Silkwood's employer has fallen behind on a contract, she and her coworkers are forced to put in a great deal of overtime and she starts to suspect cut corners. The union is more interested in publicity than with the actual complaint, and Silkwood decides to launch her own investigation, which turns up her worst fears. For her trouble, she is deliberately contaminated by nuclear waste and psychologically abused. This movie does not have a Hollywood ending, as Silkwood died under mysterious circumstances.

Erin Brockovich: Julia Roberts won an Oscar for her portrayal of a legal assistant who helps take down Pacific Gas and Electric in a class action lawsuit concerning pollution. Chromium is nasty stuff, as uneducated-but-smart legal assistant Erin Brockovich figures out when she comes across a medical form in among some real estate documents she's processing. Pacific Gas and Electric is trying to hide chromium and the harm it is doing to Brockovich's community. She goes after them, rallying the sick and their families around her otherwise obscure lawyer and in the end, PG&E ends up paying legal damages to those harmed by chromium.

In all these films, there is great risk. All  these women suffer losses and strains in their personal lives. But they are all fighting the good fight. And all these stories are true!