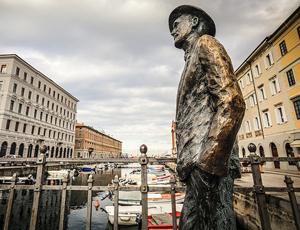 Observed annually on June 16, Bloomsday is celebrated in Dublin and elsewhere to commemorate the writer James Joyce and the characters and events of his famous novel Ulysses, which takes place over only one day, June 16, 1904. Here are other novels set during just one day.
On Chesil Beach: The main sequence in this novel takes place over only a few hours on the Dorset Coast, as Florence and Edward dine before their wedding night. This couple, in 1962, have completely different ideas about what will happen, and Ian McEwan skillfully shows how disastrous it can be when thoughts and wishes are not verbalized.

Cosmopolis: Not only does Don DeLillo's study of a callous billionaire take place over one day, but mostly over one setting, the backseat of a lavish limousine. As 28-year-old Edward Packer cruises through the city toward a haircut, he gambles on the future of the yen, receives a doctor exam, meets a couple of sexual partners and witnesses various traffic jams due to civil unrest. The monotonous nature of the novel signifies the end of an era where the privileged elite could seal themselves inside bubbles, as the nature of reality keeps interfering.

Mrs. Dalloway: Virginia Woolf weaves a complex narrative thread that connects troubled housewife Clarissa Dalloway to the inner lives of the characters she encounters as she prepares for a party. While figures as diverse as a past love and a shell-shocked veteran inspire Clarissa to ponder roads not taken, this novel, with its rich inner life, is perhaps closest in spirit to Joyce's masterpiece.

How much can happen in a day!