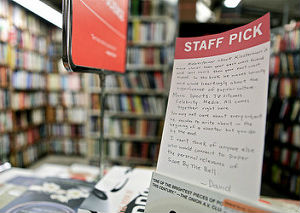 Summer in Chicago has its charms, but sometimes it's nice to just curl up in the air conditioning and read. To celebrate the new book by Michael Sullivan and summer reading in general, here are mysteries abut books and the people who love them, sometimes a little too much..
Matthew Sullivan's debut novel, Midnight at the Bright Ideas Bookstore, is a twisty, affecting delight. Lydia's stable life as a clerk in a Denver bookstore is upended when one of her favorite customers commits suicide in the history section with a photo of her and her childhood friends in his pocket. How did he come to have it? Who is he, really? How is this connected to a massive trauma in Lydia's past? What does Lydia's father have to do with all this? All will be revealed in the goodness of time, so enjoy the descriptions of Denver and the mountains and the observations of relationships in this atmospheric page-turner.

The Cliff Janeway mysteries by John Dunning are fun for those bibliophiles who like a little hardboiled action. Janeway also lives in Denver, where he's retired from the police force and works as an antiquarian bookseller. Mixed in with the tough guy storylines are lessons on running a small business and the why and how of appreciating old books. Janeway is believable as a protagonist in these luxuriantly detailed and fast-reading books.
If you are in for the slightly exotic, there's Esmahan Aykol's mysteries set in Turkey. Kati Hirschel is a German expat running a bookstore in Istanbul with her Spanish assistant Fofo. Hirschel is a natural amateur sleuth since her shop specializes in mysteries and detective fiction. Not unlike Donna Leon's novels of Venice, one gets a feel for the sleazy as well as the sublime of this ancient city in these highly descriptive novels.
Murder just seems to find Dido Hoare in mysteries by Marianne Macdonald. Based out of her Islington bookshop, Hoare sniffs out those who would kill for rare books and the secrets they may contain. Aided by her father, a retired Oxford don, Dido always gets the culprit and has time to cuddle the cat. Another good series for learning what makes an old book valuable.
Got more sleuthing booksellers? Sure you do! Tell us about them in the comments.