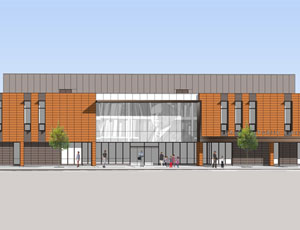 We're looking forward to improving your library!
Construction Taking Place in 2016-17
Woodson Regional Library is closed for construction. The building is expected to reopen in late 2017. Improvements underway:
A complete building envelope replacement including new roof, exterior walls and windows
Upgrades to flooring, lighting and paint in lobby and other public areas
Build out of new early childhood space
Updated guardrails and handrails on monumental stairway
Construction of two study rooms on the 2nd floor
Addition of two parking spots for people with disabilities
During the closure, selected pieces from the Harsh Collection will be available at Harold Washington Library Center. In order for staff to prepare for Woodson's reopening, the last day for research appointments to use materials from the Harsh Research Collection is September 30.
Nearby branches Avalon, Beverly and West Pullman will be open additional hours to continue to serve you.
Other Recent Improvements
New YOUmedia space for teens built in 2015
Lighting and ceiling replacement
Fire alarm system upgrade