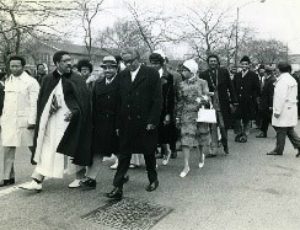 The Fellowship of Rev. Clay Evans exhibit runs through March 5 in Harold Washington Library Center's Special Collections Exhibit Hall on the 9th floor.
Pastor, preacher, civil rights activist, community bridge-builder and gospel recording artist: This exhibit explores the life of the Rev. Clay Evans.
Under his dynamic leadership, Fellowship Missionary Baptist Church grew from five members in 1950 to become one of the most significant churches in Chicago. From this base, Rev. Evans' ministry reached into the larger community with the What a Fellowship Hour broadcasts, gospel choir performances and engagement with numerous religious, community and civil rights organizations such as the African American Religious Connection, the Broadcast Ministers' Alliance and Operation PUSH.
The exhibit draws on and coincides with the opening of the Rev. Clay Evans Archive in Special Collections at Harold Washington Library Center. It features a combination of biographical and church documents, photographs, artifacts and a 1979 broadcast of What a Fellowship Hour.