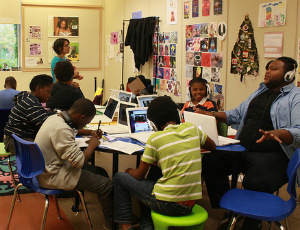 Our expansion of citywide teen services continues with YOUmedia Pop-up events. These one-day events bring YOUmedia programs to CPL locations throughout the city. Teens will have the chance to explore innovative technologies and engage in hands-on learning in their neighborhood.
On Thursday August 14 learn how to make a vinyl decal at Wrightwood-Ashburn Branch's pop-up.
Look for future YOUmedia Pop-ups at the following branches this year:
McKinley Park - August 20
Coming soon!
Archer Heights
Coleman
Daley, Richard J.
Merlo
Portage-Cragin
Pullman
Scottsdale
South Chicago
West Englewood
Teens, check out our exciting activities at our pop-up events and let us introduce you to the YOUmedia community. These events bring innovative STEM, design, making and career pathway experiences to you.
YOUmedia is partially funded by the The John D. and Catherine T. MacArthur Foundation through the Chicago Public Library Foundation.