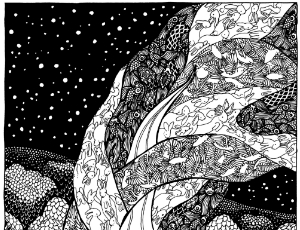 Go behind the scenes of award-winning Chicago cartoonist Marnie Galloway's, opens a new window comics and art, following a story from concept sketch to published book. View the original art and production ephemera from her wordless graphic novel, In the Sounds and Seas, which was originally self-published in two editions before it was collected by One Peace Books in 2016. 
Also included are original pages of art for her poetic comics Burrow and Particle/Wave, a collection of her hand-made minicomics, and previews from her forthcoming book Slightly Plural. A hand-painted costume, a 4-foot-tall pop-up book and a bright orange model ship expand the collection of related mixed-media work, demonstrating how comics can expand into performative spaces.
Space, Ocean, Body is on display April 13 through June 10 in the 8th Floor Exhibit Cases at Harold Washington Library Center.
Marnie Galloway will teach a workshop called Start Making Comics on Saturday, April 28 at 1:00 p.m. in Room 8S-7 on the 8th Floor of Harold Washington Library Center. Register online to attend. She will give an Artist Talk on Saturday, May 26 at 1:00 p.m. in the Chicago Authors Room on the 7th Floor of Harold Washington Library Center.