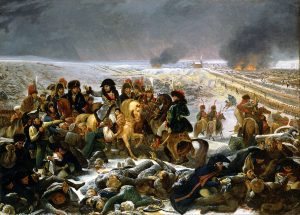 Napoleon Bonaparte has been portrayed in dozens of films, played by everyone from Marlon Brando to Dennis Hopper, and notably as the character who ate the Ziggy Pig ice cream in Bill & Ted's Excellent Adventure! While entertaining, these films cannot begin to tell the tale of the man born 250 years ago this month, on August 15,1769, in Ajaccio, Corisca.
Napoleon was a man of contradictions. He was born and raised on the island of Corsica, yet he wanted to be seen as cosmopolitan and sophisticated. Corsica's influences were very Italian, but Napoleon considered himself firmly French. He was a brilliant strategist, yet he failed to see the enormous potential of America, selling the Louisiana Purchase to the fledgling United States for a fraction of what it was worth to finance his dreams of reconquering Europe. He was a product of the French Revolution and its ideals of liberty and equality for all men, but created a sprawling empire that subjugated a variety of cultures.
There are hundreds of titles written about the man who rose quickly from the artillery to statesman to emperor. They cover the Napoleonic Code, his various European conquests, the Egyptian campaign that opened the door to rediscovering the tombs of Luxor, his battles with Nelson and Wellington, the doomed campaign in Russia and the tempestuous relationships with his family that were worthy of reality TV.
If you start with Napoleon, part of the Penguin Lives series, you'll get an excellent introduction to Napoleon and his place in history. Author Paul Johnson is a noted historian, and he recommends a list of titles for further reading. 

The Linguist and the Emperor focuses on the results of the Egyptian Campaign. It failed to cut off British access to their colonies but produced important historical discoveries like the Rosetta stone, which allowed the French linguist Jean-François Champollion to translate hieroglyphics and unlock the mysteries of a forgotten culture.

In addition to being a successful general (a least until Waterloo!), Napoleon was one of the first statesmen to grasp how to manipulate public opinion and control the media. Napoleon: Life, Legacy, and Image details how he outmaneuvered his rivals and was driven to create a political dynasty to preserve his legacy.

Napoleon is a more recent biography that takes advantage of recently released letters to give a close look into the mind of the general and reveals glimpses of the wit and passion that captured the love and loyalty of his people.

No matter his greatness and all he accomplished, Napoleon still ended in lonely exile on St. Helena. To further explore his life and downfall—a mixture of tragic flaws, bad luck and his own hubris that sacrificed the lives of his own countrymen—try other Napoleon biographies.