Martha Lavey, the artistic director of Steppenwolf Theatre Company from 1995 to 2015, and a member of the theater's acting ensemble since 1993, died Tuesday. Lavey left her mark on Chicago's theater community and on Chicago Public Library.
A champion not only of Steppenwolf, but of theaters across the city, she spoke about the importance of the arts to a thriving community when she gave the 2008 Cindy Pritzker Lecture on Urban Life and Issues at CPL. Reflecting on her personal love of reading, she also shared, "I was one of seven children and reading was my way to own a private space—a private space in which I was not isolated but rather where I found a larger community."
Lavey offered her support to CPL and theater once again when she helped launch our Chicago Theater Collection-Historic Programs digital collection in 2011. She was a keynote speaker during the symposium on Chicago Theatre Capital of America: Past. Present. Future.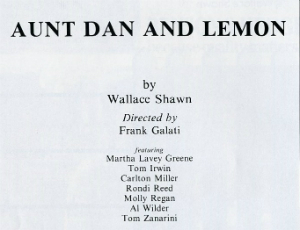 Lavey's legacy lives on not only in her mark on Chicago's arts community, but also in the Chicago Theater Collection, home to the Steppenwolf Theatre Collection, in the Special Collections and Preservation Division at Harold Washington Library Center.
In the words of Mayor Emanuel, "she helped put Chicago theater—and the gritty, gutsy Chicago-style theater for which we're known—on the map. Martha will forever be remembered as one of the most important figures in the history of Chicago theater."