Rahm's Readers Summer Learning Challenge Brain Builder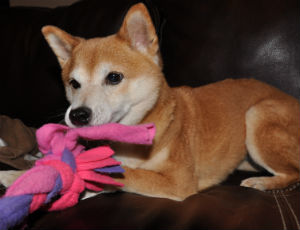 Animals have a natural need to explore and be active. People who care for animals want to keep animals interested in their environment by helping them practice behaviors specific to their species. This is called enrichment.
Zookeepers might hang a piñata filled with food in a tree so the animal has to work to reach its meal or they may introduce scents or sounds of other animals they encounter in the wild.
You can provide enrichment for animals at home or at a shelter, too. What's your favorite animal? What does that animal do in the wild? What kinds of enrichment would you provide for the animal?
Read
May I Pet your Dog?: Straight from the dog's mouth, learn how to safely meet a new dog.

Totally Fun Things to Do With your Cat: Games and toys galore to entertain your feline friend.

Discover
How exactly do zoos provide enrichment? Learn what makes animal enrichment so important and observe animals at "play."
Cats and dogs need enrichment too! Make a cat scratcher or dog tug toy and share it with your favorite pet, or donate it to the library and we will share them with the Anti-Cruelty Society.
Cats love to scratch to sharpen their claws for hunting. This instinct to scratch is in all cats, even house cats, however, sharp claws can do a lot damage to your house. Use some cardboard and string to make a scratcher your cat will love.

Source: Shilo, CPL

Cut out a 5.5" x 11" rectangle from a cardboard box. (Thick, corrugated cardboard works best).
Fold over 1" of each edge of the rectangle, then cut a 1" slit into the horizontal fold for a total of 4 cuts.
Cut 2 slits in the center of the rectangle about 1" from the left fold and right folds. Thread a piece of string or yarn about 15" long through each pair of slits.
Cut about 20 1"x 9" strips out of the cardboard box scraps.
Apply glue to the whole rectangle and place the cut strips on the cardboard upright, so the corrugation shows.
Fold up the sides and secure with rubber bands or tape until scratcher is dry.
Use the string to tie the cat scratcher to a secure object and let your cat play.

Dogs love to play tug-of-war. It is their way of releasing energy, mimics wild canine behavior and is just plain fun! Use an old T-shirt, a piece of fleece or some old jeans and in a few minutes you will have a fun toy for your dog.

You will need at least a 12" x 3" piece of whichever material you are using.
Cut the fabric into three 1" wide strips.
Gather the strips and tie them together at one end.
Braid the strips together and tie a knot at the other end.
Play with your dog!

Visit a zoo and try to spot different types of animal enrichment. Observe how the animal uses the enrichment. How does it help the animal?
Design an enrichment for an animal at the zoo. Think about how it could help the animal.
Dig Deeper
Humans need enrichment, too! Think about what interests you. Is it toys? Books? Music? Look around your home or library and list some of your favorite toys or ways you like to stay busy. Explore how to play like an animal.
Rahm's Readers is in partnership with Chicago Park District, Chicago Public Schools, The Anti-Cruelty Society of Chicago, Brookfield Zoo/Chicago Zoological Society, Lincoln Park Zoo, the Museum of Science and Industry and Chicago City of Learning.
Rahm's Readers is made possible by The James & Madeleine McMullan Foundation, Cubs Care, Comcast, Dr. Scholl Foundation, CPL Foundation Junior Board, Helen M. Harrison Foundation, Macys, Peoples Gas, Robert R. McCormick Foundation, ComEd, R.R. Donnelley, The Elizabeth Morse Charitable Trust, Daniel F. and Ada L. Rice Foundation, Verizon and RPM Advertising through the Chicago Public Library Foundation.