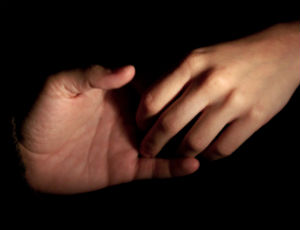 Our collective fascination with utopian/dystopian worlds began in 1516 with the publication of Utopia by Sir Thomas More where he describes his ideal society. Fast forward almost 500 years to 1993 and the publication of The Giver, the first dystopian novel published for children. A seemingly perfect society, with no war, no pain and no choice, is exposed when young Jonas learns its secrets from the Giver.

What makes this such a successful story is the way author Lois Lowry gradually exposes the world in which Jonas lives and the mysterious ending that leaves the you wondering what really happened. With the movie opening this weekend, The Giver stands as one of the books all other dystopian novels for children or teens are measured against.
Looking for more great dystopian fiction? Try these before, or after, you read The Giver or see the movie.
Among the Hidden: As an illegal third child, Luke has lived all his life in hiding until he meets Jen, the third child of one of the elite families in the first book of the Shadow Children series.

The City of Ember: In the year 241, a lucky exchange makes Lina a messenger in her small community where she discovers that the frequent power outages and dwindling food supply signal a greater danger.

The One Safe Place: After his grandfather dies, Devin must leave their farm to find food and shelter in a future earth devastated by global warming. Though he finds a new family at the Gabriel H. Penn Home for Childhood, can he uncover the sinister secret behind the home and its zombie-like children before it is too late?

The Other Side of the Island: Honor is willing to believe everything Earth Mother teaches after her family is forced to relocate to Island 365 of the Colonies. When her rebellious parents mysteriously disappear, however, Honor and her friend Helix work to uncover the truth behind the controlling Corporation.

What's your favorite dystopian novel?