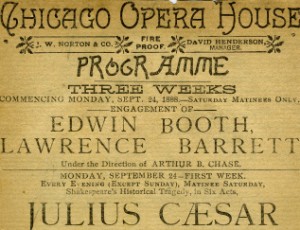 "Beware the Ides of March," warns the Soothsayer in Shakespeare's play Julius Caesar, as the midpoint of the month, the Ides, approaches. This famous line foretells Caesar's murder, an historic event that took place on March 15, 44 BCE.
While it's not performed often, many productions of Julius Caesar have been staged in Chicago. On September 24, 1888, Edwin Booth and Lawrence Barrett, both famous Shakespearian tragedians, headlined in a production of the work at the "fireproof" Chicago Opera House. Booth wrote to his daughter, "To-night I begin with Brutus, with some new scenic effects—burning the body of Brutus." In his next letter, he described the scene, "On the funeral pyre…an excellent representation of myself, in papier-maché, was discovered in profile…and all went well." The next day's Tribune critics were a bit less satisfied, claiming the stunt "superfluous" and chastising that, "A tragedy that ministers to the mind and soul need not at its crowning moment demean itself to flatter the sight."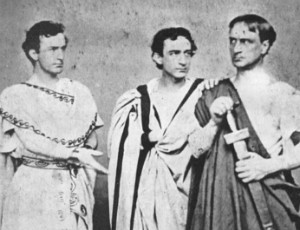 Nearly 25 years before, Booth had portrayed the same role at the Winter Garden Theatre in New York, opposite his equally well-known actor brothers, Junius Brutus, Jr. and John Wilkes, in the roles of Cassius and Marc Antony. The event brought them together for a special fundraiser to erect a statue of Shakespeare in Central Park. Although already famous as an acting family, in a matter of months, John Wilkes Booth would become best known, not as an actor, but as Abraham Lincoln's assassin—killing him on the Ides of April.
More recently, Chicago theaters have taken their own new risks with Shakespeare's play. In 1993, the Black Ensemble Theater's version was described by the Reader as "potent" and "ingenious." Director Harry J. Lennix staged it as a modern African American drama with Brutus and Cassius loosely resembling Elijah Muhammad and Malcolm X. Then in 1999, Stage Left took on the work as its first Shakespeare production, giving it a contemporary and paramilitary vibe. It received favorable reviews and a special shout-out by Martine Tharp, a Sidewalk contributor, for the "great blood design."
All of these productions and others are represented in the Chicago Theater Collection at Chicago Public Library. Come explore them for yourself, and find out what else is happening in CPL's celebration of Shakespeare 400 and throughout the city at Shakespeare 400 Chicago.