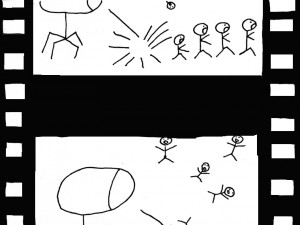 What do your movie preferences say about you? Or your era? Or your politics? Or whatever? There are plenty of critics with answers to those questions, and they've written countless books transforming movies into symbols for their respective times and cultures.
Pictures at A Revolution focuses on the five Best Picture contenders of 1967: The Graduate, Guess Who's Coming to Dinner, In the Heat of the Night, Bonnie and Clyde and that unimpeachable classic Doctor Dolittle. Put together, these movies tell the larger story of an old Hollywood fighting for relevance in a world where an ambitious new generation of filmmakers had begun to realize its own strength. The book almost convinces you that this year in movies could have ushered in a film world where scrappy artists argued forever over their visions until they produced sheer Art.

But then there was Jaws, which marked the beginning of an era where massive, big-budget movies dominated the popular consciousness. Blockbuster chronicles more than three decades of fun and bombast. In a refreshing twist, author Tom Shone actually seems to like the blockbuster. Rather than bemoan the lack of support for arthouse films, he joyfully barrels through Star Wars, Alien, Aliens, Back to the Future, Titanic and a handful of other top movies, bringing a vitality to his writing that reminded me why sitting in a dark theater watching stuff go boom could be so stubbornly uplifting.

Nevertheless, the arthouse never goes away. It just talks to itself in a corner until you notice. Rebels on the Backlot follows six indie directors through the 1990s as they burst onto the scene with some of the most iconic movies of their time, including Fight Club, Being John Malkovich and Pulp Fiction. Just like in previous generations, a new wave of scrappy artists flexed its muscle, creating new possibilities for the medium.

So be careful what movies you watch. Years from now, historians and critics will be judging.