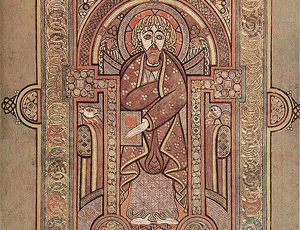 The St. Patrick's Day parade coming up serves as a reminder of the lovely trip I took to the Emerald Isle two years ago. I'd rather spend the day learning about the history of the event than going on a pub crawl in a sea of green, but that's just me.
One of my favorite quick history books is How the Irish Saved Civilization. The title might be overreaching, but jump-starting the practice of creating written records across Europea is a pretty significant contribution to humankind. A bestseller when it was first published, the book covers the history of the church in Ireland and monasteries in particular, where monks would take years to create history books that were also beautiful pieces of art.  A significant portion of the book discusses the history of the real Saint Patrick.

The beautiful animated film The Secret of Kells follows a curious child named Brendan who lives in a monastery in medieval Ireland. The monks are writing beautiful works including the famous Book of Kells while the monastery is in constant threat of attack by Vikings. It is a great introduction to Irish history for people of all ages.

If by chance you're on your way to the Emerald Isle, which I highly recommend because it really is that green, there is no travel guide more useful then Rick Steves' Ireland. Driving around Ireland is surprisingly easy, and the guide provides picture-perfect things to see, including my favorite place in the world, the Rock of Cashel. Even though Steves highly recommends it, few people visit it and it will always have fewer than five visitors on any given day, making the magic of the place your own.

So skip the pub crawls, crank up Chicagoan Liz Carroll, the award-winning Irish fiddler, and celebrate the history of the beautiful country in a more enlightening way.