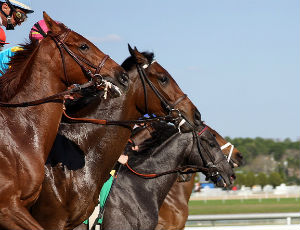 My interest in horses recently led me to do a little research on them. Chicago Public Library has a plethora of books and movies about the horse. It is the subject of great movies as well as many fine paintings by well known artists.
There are a lot of fun and interesting facts about horses. The evolution spans a time frame of about 55 million years. In comparison to other four legged animals of its type this one toed mammal stands out from the others in movies, stories, sports, and as best friend to some.
Horses, zebras, and asses comprise the horse family or the scientific nomenclature, "Equadae." They are built for speed and over the years have become great workers in helping develop our civilization in times of war, construction, and providing sports and entertainment.
The books and movies have a wide range of content from the very basic for children to the more in-depth details of history for adults. Many titles consist of typical and not so typical, "horse tales." My favorite, however, are the "how to," books on drawing and painting horses.
The racing season has begun and as we wait for the Derbies and many other fabulous competitions, it's good to know that little known facts and details are easy to access. To add to that, I've just learned that this year the chinese new year is the year of the horse. With their strong legs, large bodies and large teeth, these magnificent animals are as beautiful to draw and watch and an interesting topic to explore.