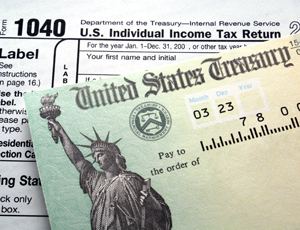 It's tax time again! Use these resources for help when you file your income taxes.
Federal
Tax forms 1040, 1040A and 1040EZ remain the staples of individual income tax filing. These forms are still available at many CPL locations, but the IRS no longer distributes the Publications, Schedules, or Miscellaneous Forms. Online versions of most forms and publications are available at IRS.gov. If you need to order print copies, go to Order Forms & Publications or call the tax product hotline at (800) 829-3676.
You can also check out commercial guides like J.K. Lasser's Your Income Tax.

State
Like the IRS, the State of Illinois' Department of Revenue has state tax forms to download and print on its website, tax.illinois.gov. Unlike the IRS, the State offers its own account management program, My Tax Illinois, where taxpayers can file returns, make payments and manage their tax accounts.
Get Help
Free tax assistance for qualified families and individuals is available.
Tax Prep Chicago connects Chicagoans with tax-filing assistance programs throughout the city. Get help from Tax Prep Chicago at Harold Washington Library Center.
Selected CPL locations offer tax assistance through LadderUp or the Tax Aide Program from the AARP Foundation: