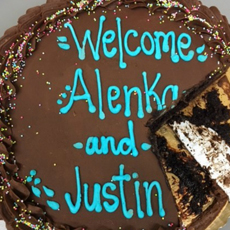 In March, we welcomed two new staff members at Bezazian Branch.
Alenka, who was our outstanding CyberNavigator, is our new children's library associate. We're all looking forward to her enthusiastic service and outreach to the children of the Bezazian community and are excited to see how this library school student's career develops.
Justin, who's just back from two years in Burkina Faso with the Peace Corps, is our new CyberNavigator.
Make an appointment with Justin to learn new computer skills such as downloading eBooks and magazines as well as other key skills like applying for jobs online. Learn more about Bezazian Branch Computer Help.