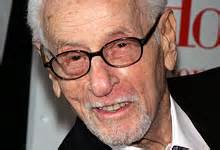 The venerable Eli Wallach, character actor extraordinaire recently passed away at the age of 98. He was in many memorable films during a career that spanned six decades. In 2010 he was honored with an Honorary Academy Award for a "lifetime's worth of indelible screen characters." He brought something meaningful to each role he played, no matter how small. He was known for his versatility and played everything from Mexican banditos to old curmudgeons. Below are a few of my fave films where he played the baddie to the hilt.
The Good, the Bad and the Ugly - In this film Wallach plays Tuco Ramirez, "the Ugly," a fast-talking Mexican bandit who together with "the Good", played by Clint Eastwood, and "the Bad" played by Lee Van Cleef search for a hidden cache of Confederate gold. One of the best films in the spaghetti western genre.
The Magnificent Seven -  Wallach plays the evil Calvera who annually pillages a small Mexican farming town with his gang of banditos. However, this time the town has hired a group of their own gunslingers to protect them and teach them how to retaliate. A wonderful musical score combined with a host of great actors, Steve McQueen, Charles Bronson, and Yul Brynner to name a few, makes this movie a must see.

The Godfather Part III - The last and definitely the worst in the Godfather trilogy, but it does provide closure to the saga of Michael Corleone and his family. Wallach is Mafioso Don Altobello who swears allegiance to Michael Corleone while secretly betraying him. He meets his maker via a poisoned cannoli - a scene wonderfully over-acted by Wallach.