Last week the sixteenth annual Ebert Fest was presented in Roger Ebert's hometown of Champaign-Urbana, Illinois. Ebert passed away shortly before his own curated festival last year. To understand the genius of one of the most popular film critics of all time, it is essential to read his literature to realize just how easily he provided access to film discussion to the world at large.
Ebert's memoir highlights the open and courageous man the public knew toward the end of his life: a blogger, recovering alcoholic, intermittently ill, and happily married man. From childhood memories, to his drinking days, to travel essays and remembrances of his favorite stars, Ebert holds forth on topics both entertaining and deeply personal in this autobiographical work.
In his reviews of great movies, Ebert built a personal canon that was worth viewing by any film buffs, and he sought to explain what made those films so great. This collection includes film as diverse as Mulholland Drive and acknowledged classics like Ivan The Terrible, but all are given the same loving consideration with Ebert's clear and enthusiastic writing.
On the flip side, there is nothing quite as funny as Ebert's scathing reviews of movies he hated. When he was on, nobody was more darkly witty. "I had a colonoscopy once, and they let me watch it on TV. It was more entertaining than The Brown Bunny," Ebert once wrote of the notoriously panned Vincent Gallo film.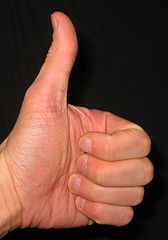 Image of "thumbs up" provided by user Dbennbenn on Wikimedia Commons.