Previous: Welcome to the Municipal Reference Collection
The Municipal Reference Collection at Harold Washington Library Center is a unique resource that serves as the first point of contact for information on Chicago ordinances, statistics, government, budgets and community areas.
Call (312) 747-4526 for reference assistance. All materials are for use in the library only.
Among the many materials in the collection are the following:
Clipping File
The file contains 500,000 clippings from about 40 community newspapers. The date range is 1956 to 2011. The clippings deal with almost every aspect of Chicago. Topics are as diverse as tuberculosis, visits to Chicago by John Kennedy and Martin Luther King, Jr., the elevated system, name changes of prominent Chicago buildings, tow trucks, Halsted Street, the postal service in Chicago and elections.
 Municipal Ordinances
An extensive collection of ordinances allows historical research into Chicago laws and related issues. Examples include government organization and history, railroad and freight tunnel alignment, reconfiguration of streets and boulevards, public works history and shoreline information.
Community Area Information
The clipping file complements a broad collection of current and historical descriptions, statistics and plans for Chicago communities. We actively collect community pamphlets and other information to reinforce this part of the collection.
 Maps
A large and well-indexed collection of Chicago maps of various dates.  Examples are: 1939 Land Use Maps, an 1863 map of Cemetery (Lincoln) Park, aerial photos of Englewood and 1990s maps of mortgage defaults and poverty rates in Chicago.
Election Results
Chicago election results back to 1886 by precinct and ward. Official precinct results are added upon release. The clipping file also has coverage of each election and candidate.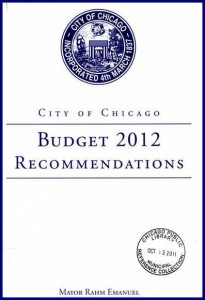 Municipal Finance and Organization
Budgets, financial statements, clippings and other financial information from Chicago and other major local governments. Ordinances, laws and explanations of governmental functions supplement this material.