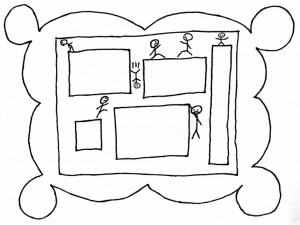 I don't get art. I'm not even sure that I know what I like, which is all the more reason for me to mess around with art books and see if I can learn something.
The Success and Failure of Picasso had a bit of controversy when it came out, probably because it suggested that the great Picasso might not actually be quite as great as everyone thinks. The book portrays Picasso as a permanent exile, a Spaniard living in France, an old Romantic stuck in the modern era. Like most art books, it finds a lot of meaning in squiggly lines, but it's an entertaining read.

The Shock of the New is a highly praised BBC miniseries originally released in 1980, accompanied by an equally insightful book. With a great deal of wit and charm, series creator Robert Hughes traces the history of art back to Impressionism, transforming a century-long mess of artists, ideas and movements into something just a little more understandable.

But what is the art world, anyway? How does it tick? What makes it go? Seven Days in the Art World takes you inside the contemporary art scene. Shifting from crowded auctions to serious art classes to a respected magazine to a bustling studio to an enormous festival, the author gives you a taste of a little bit of everything the art world gives to its denizens.

After reading these books, I still don't know what art is, but I'm getting a feel for why people love it so much.