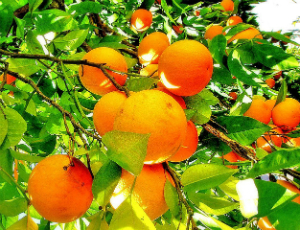 One of my favorite patrons, Carlos, was telling me about his volunteer work at a hospice and the elderly man he visited. When Carlos found out he liked oranges, he brought a bag in and carefully peeled one for him as they talked. As Carlos was leaving, the elderly gentleman told him to take the bag with him. Carlos tried to explain he'd brought the oranges as a gift. The elderly man's response was he wanted Carlos to take them so he would come back. "I want you to bring me an orange every day."
Stories like these show our humanity and how we need one another. Novels are one of the ways we make that connection. Good novels create characters we care about and make us realize that without that human connection we are lost.  Here are a few "oranges" to read or share:
And the Mountains Echoed by Khaled Hosseini. Beginning with the heart-breaking separation of a brother and sister, this story interweaves family stories against the backdrop of Afghanistan, California, and Paris. Each story highlights ways that families love and hurt one another. Great for book club discussions.

A Thread of Grace by Mary Doria Russell. A beautiful story of WWII heroism and hardship set in Italy. The Italian people hid approximately thirty thousand Jews, both their own countrymen and refugees from France, Austria, Poland, and other countries. This complex novel follows their stories during the occupation and resistance against Germany as they struggle to survive.

The Good Luck of Right Now by Matthew Quick. Like his previous book, The Silver Linings Playbook, this contemporary novel is full of quirky characters struggling to find their place in the world. Bartholomew Neil has spent most of his life taking care of his mother. After she dies he is grief stricken and unmoored. Convinced that his mother was in love with Richard Gere, Bartholomew tells his story to the star in a series of tender, awkward letters that are hilarious and melancholy.